You are not alone in this.
Hi, I'm Mindy. I am a Licensed Clinical Social Worker (76976) in California. I am native to Sacramento, California, but these days I live in Copenhagen, Denmark with my partner and kitty. That's why you'll be meeting me online!
When I'm not in session, you can often find me exploring new cities, enjoying live music, watching true crime documentaries and horror movies or in impassioned discussions about social justice.
I believe that therapy is about human connection and creating a safe environment to explore and learn more about yourself, and this is what I strive for in my practice. I take my clients' mental health and other issues very seriously, but I also use humor in my approach and firmly believe in the healing power of laughter!  Once we get to know each other a little bit, we will work collaboratively to determine what issues are bothering you most and make a plan to address them and work towards solutions. I pride myself on being able to see the big picture and help you make new connections which will help you understand yourself and what you want better.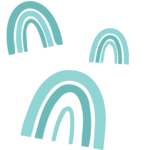 I am formally trained in Dialectical Behavioral Therapy (DBT), Cognitive Behavioral Therapy (CBT) and Solution Focused Therapy and tend to approach things from a Humanistic and Feminist Theory lens. I am eclectic in that I tend to teach skills and use interventions from a variety of theoretical orientations, based on individual need. My goal will always be for you to have a safe space to process, learn to look at problems in new ways, and learn concrete skills for coping with future stressors.

I believe that we cannot ignore disempowering and harmful societal, cultural and political forces when treating mental health issues. The personal is political, and there is a great deal of social context behind each of our individual struggles that may bring us to therapy. As a queer therapist, I want to support marginalized communities with getting culturally-competent and affirming care.
I have a Bachelor's degree in Sociology, as well as a Masters of Social Work from California State University, Sacramento. I have been working in the field of Human Services since 2006, including providing services for individuals with developmental disabilities, and in community mental health settings. I have worked in a variety of roles as a Case Manager, Service Coordinator, Mental Health Clinician, and Director. Since 2017, I have been location independent, and have been able to help people all over California by providing online therapy from wherever I am in the world.